R900.00
4
Pic Holographic Multi Reticle Red & Green Dot Sight Scope
Red Dot & Green Dot Holographic Weapon Sight with Precision accuracy, Reliable and durable Wide field of view. Perfect for rapid fire or moving target shooting. Multi Color Illuminated Reticle (Red & Green) (4 patterns) Adjustable reticle brightness in red and green. Parallax corrected Unlimited eye relief.

This sight is great for low light shooting conditions the green take you to a whole new level of tactical shooting. Lightweight Shockproof Low power consumption.

RED DOT GREEN DOT SCOPE SPECS
4 RETICLE PATTERNS
MAGNIFICATION: 1X
HEAVY RECOIL PROOF: YES
OBJECTIVE DIA. MM: 1x22x33 Reflex Sight (Knob Version)
Tubeless design with 30mm reflex lens aperture provides a wide field of view
Suitable for rapid-firing or shooting of moving targets besides normal shooting.
Built-in mount (integrated rail) for standard bases
No need to rezero when remounting the discounted sight
Heavy-duty Green / Red dot sight for handguns, rifles, shotguns and bows.
Parallax corrected and unlimited eye-relief
1 click: 1 MOA (approximately 1" at 100 yds, 1/2" at 50 yds)
Pattern: 4 Reticle dot pattern
Dimension: (L) 82mm (H) 55mm (W) 38mm
Included:CR2032 3V lithium battery Dust cover allen key and cleaning cloth.
R250.00
Vertical front grip for rail with pressure switch slots and battery compartment
R90.00
Solid Rail mount for 25mm Flashlight
Barrel mount for 25mm flashlight Bolts onto barrel second piece around flashlight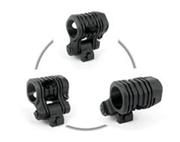 R120.00
Rail mounting 25mm flashlight clockable mount
R160.00
2 Point padded sling with swivels
Universal fit.
Exclusive Rhino Rib at the strap.
Ultra-Grip material under strap to prevent slipping.
R160.00
Single point bungee sling BLACK
R800.00
Universal clamp on Bipod for swivel stud or rail mount.
Clamp on folding and extendable Bipod 22.5cm - 39cm.
INCLUDES Barrel adapter, rail mount and swivel attachment
Detail Information:

High Tech Durable Aluminum Construction and Steel Top Platform

Clever Dual Mounting - Picatinny Mount and Swivel Stud Mount

Foldable Arms with Robust External Spring Tension Control

Fully Adjustable Legs with Posi-lock Wheel & Quick Retraction Button
Panning:Yes
Posi-lock:Yes
Extendable Legs:Yes
Foldable Arms:Yes
Swivel Stud Mount:Yes
Picatinny Mount:Yes
Reversible Arms-Folding:No
Stand:Rubberized Stand
Material:Aluminum
Weight:13.3 oz